Havas Group Releases New Prosumer Report
Havas Group's prosumer reports unpack trends identified by the real trend-setters: prosumers, those of us who are ahead of trends and influence the brand choices and consumption behaviours of others. Our second Prosumer Report for 2021 is out and sheds a light on the state of Big Tech (Facebook, Amazon, Apple, Google, etc.) to help us better understand the consumer's relationship with tech companies, and what Big Tech needs to do to stay on users' good side.
Despite all the bad reputation that Big Tech has been accumulating over the past few years, consumers are not holding them accountable because the pandemic has actually worked in Big Tech's favour. During a time where everyone was stuck at home, Big Tech came to the rescue. In fact, more than 7 in 10 Prosumers and half of mainstream consumers surveyed globally for this report said their opinion of big tech companies improved during the pandemic.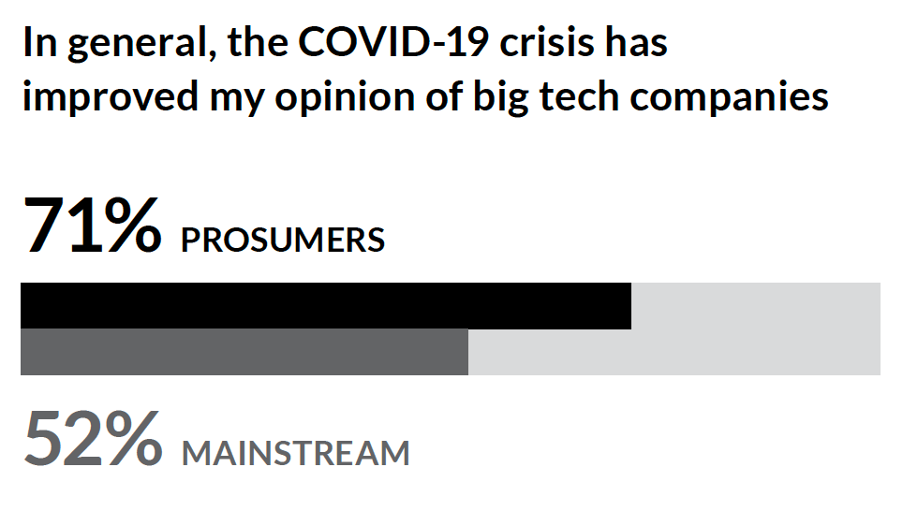 There are several reasons that explain why the pandemic helped improve people's opinion of Big Tech. First, as governments faltered and struggled to provide people with answers, Big Tech stepped in and offered contributions and answers. Some companies supported healthcare facilities and small businesses while others emerged as a voice of reason providing helpful, accurate information, and practical resources. In fact, consumers have come to believe that Big Tech is more capable of addressing complicated challenges than governments.
Throughout the pandemic, Big Tech has been a source of entertainment and connection. Indeed, it turned into an essential tool for people to remain positive and cheerful during the crisis. Digital devices delivered entertainment options and a means to connect with loved ones when social distancing was mandated. As a result, 3 in 4 Prosumers expect to continue connecting via their devices even after the pandemic is over.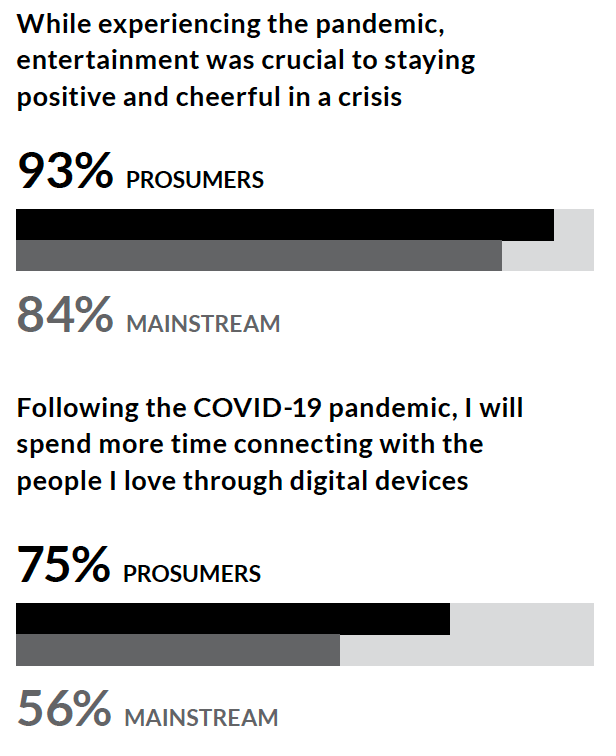 But we are not completely oblivious to the negative aspects of our digital reliance: the fact that we have become overly dependent on tech is a concern, as Prosumers (72%) and the mainstream (73%) are worried. We are ready to admit that while some of us would like to quit social media, they cannot because they are addicted to it. However, for all the reservations we have about tech and dependence, the pros of tech outweigh the cons as technology is also perceived as a force for good in sectors such as education, health, finance, and more.
On one end we see Big Tech as something that has done a lot of things right, but on the other there is a consensus that tech giants have gained too much power (according to 80% of Prosumers). They may have revolutionized e-commerce platforms and social connection, but they also have negatively impacted their workforces and our democracies. In order to retain the support of the public and fend off government intervention, our report has identified three factors that needs to be prioritized:
Equity and accessibility: 56% of Prosumers want to see more women in the male-dominated technology industry "because a better gender balance can help prevent digital biases."
Transparency: 88% of Prosumers want "tech companies to offer tutorials on how to protect our data privacy."
Inspiration: Around half of Prosumers—including more than 7 in 10 in Brazil, China, and India—expect technology innovation to help them envision a better tomorrow.
All in all, if Big Tech and its leaders have managed to avoid a consumer "techlach" so far, they cannot escape continued scrutiny and demands to serve the public interest forever.
Access the full report, capturing the experiences and opinions of nearly 16,000 people in 32 markets, here.